Queensland has Many Amazing Places
Queensland is my new home. Although I have only been in Queensland for 3 years I have travelled through the State extensively for work during the last year. I have been right to the very top of Queensland in the Torres Straight Islands, a very special trip, now one of my favourite places to visit

The Gold Coast is a popular touist destination - You can see why!
Queensland can be divided into 14 regions -
Brisbane - The beautiful capital city of Queenslandis
one of the prettiest major cities I have seen
Bundaberg - 140kms of unspoiled sandy coastline
Capricorn – It's name comes from Tropic of Capricorn,
it is also home to the city of Rockhampton
and is the Southern Gateway to the Great Barrier reef
Fraser Coast and South Burnett - World Heritage Fraser Island,
Hervey Bay and towering rain forest
what more could you want!
Gladstone - With the Great Barrier Reef on its doorstep Gladstone
is a unique region with much to offer
Gold Coast - A well known tourist destination with so many
great things to do and places to see
Mackay - Secluded beaches and magnificent rain forests,
Mackay Region is great for a relaxing getaway
Queensland Outback – This is the real Australian experience
–rough and tough but very special
Southern Downs – Where the wilderness meets the Granite Belt!
Warwick, Stanthorpe and Cunningham's Gap
just a few of the highlights.
Sunshine Coast – The name that describes the whole State!
Just North from Brisbane its pristine beaches
and wonderful Hinterland will have you coming back over and over
Toowoomba – Mountain Air, Breathtaking Views and flowers everywhere –Toowoomba region will bewitch you!
Townsville – coastal towns and rugged outback are scattered through
this region. A highlight is a visit to Magnetic Island
Tropical North Queensland – With so many natural wonders
why wouldn't you visit Tropical North Queensland?
The Whitsunday Islands – 74 Islands of Paradise!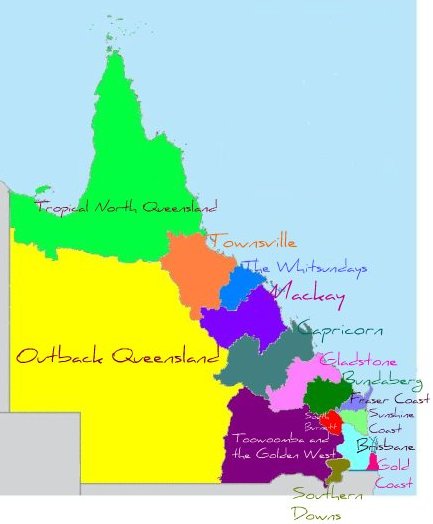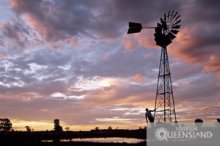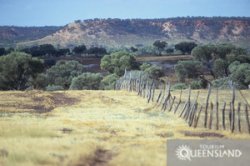 Moonie River Toowoomba Region.......Winton in Queenslands Outback


Some Important Information
Queensland is the second largest and fastest growing State in Australia. It is a very large and diverse State, with stunning beaches, tropical rain forests and rugged outback. The climate is warm, just in variations of warm. The further North you go the more humid the warm climate gets. In the summer months Queensland experiences true tropical weather and this does include tropical rain. But don't be discouraged it is often in short bursts and it stays warm anyway!
The seasons in Australia are the opposite of the Northern Hemisphere with summer being from December to March and boasting temperatures in the high 30 degrees Celsius, to winter in June to August. The seasons in Queensland are warm, warmer and humid! I have been here 3 years and have never experienced a cold winter- not like Melbourne's winters anyway, and in summer the temperature has rarely been over 30 Celsius. It snows very rarely in any parts of Queensland.
Driving in Queensland and all of Australia is on the left with cars fitted for right hand drive. Road rules differ slightly from state to state so make sure you get familiar with these before you drive. It is the law in all states of Australia to wear seat belts in cars at all times.
Queensland does not operate in Daylight savings Time so from October to April Queensland Time will be 1 hour behind the other states on the East Cost of Australia.
I will go through each region of Queensland and provide information on the major health services and make some suggestions of what to see.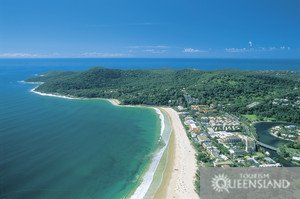 Noosa Heads on the Sunshine Coast





Return from Queensland to Travel Nurse Information Australia Home Page